Competition Information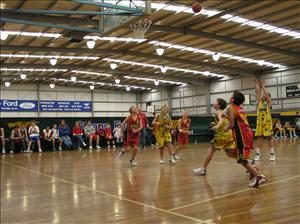 Waverley Basketball Junior Competition has two major seasons per year. Our Summer Season runs from October to March during school terms four and one, breaking over the Summer holidays, and our Winter Season runs from March to October during school terms two and three.
The competition consists of boys and girls teams from Under 8 to Under 18 age groups. Games are at the Waverley Basketball Stadium, Corner Batesford Road and Power Avenue Chadstone, the Oakleigh Recreation Centre, 2A Park Road Oakleigh, as well as several schools in the local area.
Games are played across Saturdays and Sundays depending on the age group and gender. Girls have the option of playing in the Boys competition as well as the Girls competition only under the following conditions:
1. For all age groups, girls can play in the boys' competition if the club is not entering a girl's team in the age group in question
2. Under 14, 16 and 18 can play in the boy's competition only if they first play with a girls team in the age group, and the priority must be to girls' competition.
3. All requests must be in writing to the competitions Administrator
* Note from 2021 all previous request for girls to play in the boys' competition are invalid
For enquiries, please contact WBA. Contact details can be found here.
TUESDAY Girls Under 16-20
SATURDAY Boys Under 8-16
SATURDAY Girls Under 8-14
SUNDAY Boys Under 18-20
Teams are entered and managed by WBA's Junior Clubs. All teams in WBA Junior Domestic competitions must be affiliated with a Junior Club. More information can be found in the 'Junior Clubs' section of the website.
The court schedules for junior competitions, particularly Saturdays, are complex and based around a number of factors including age group, venues and compatibilities.
At the beginning of each season, fixtures for the grading rounds are produced. Following the grading rounds, full season fixtures are then made available.
Please familiarise yourself with the features and additional services our digital stadium has to offer.
Every court at Waverley Stadium has 'LIVESCORE' Touch Screen Scoring. Game information is displayed on LCD Scoreboards with game sounds and warnings to enhance player experience. The information is linked back to the website to view games live streaming, and instant ladders and results are updated.
All members can sign up to use the STATISTICS VAULT for free. This provides easy access to player and team statistics, qualifications, averages, competition rankings, season and career information, and more!
All games played at Waverley Stadium are recorded via two high definition cameras mounted high above each court. Visit WAVERLEY.TV for more information.