Domestic Competitions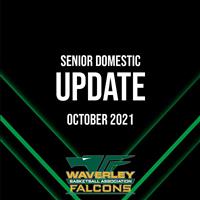 Senior Domestic UPDATE
26/10/2021
WBA is excited to have everyone back on court soon! Therefore, it is important we share the following information:
Please click here for the latest Return to Sport information from Basketball Victoria.
Although it is intended that indoor community sport 'is excluded from vaccination requirements if participants are attending solely for that activity', this has yet been finalized and we're waiting further clarification from our governing body. In addition to the mandatory QR check in for every individually over the age of 16, previous Covid-19 Safe Management Plans such as entry/exit and arrival/departure procedures will remain in place until further notice.
The Monash Council have mandated double vaccination of everybody over the age of 16 at all facilities within the Monash Council. This ruling can potentially override BV's position, and even though WBA are privately operated, the Stadium is on council land and WBA have new lease arrangements with the City of Monash. WBA have scheduled a meeting with council next week to finalise and clarify this position and will update you as soon as possible.
In addition to the vaccination uncertainty above, we wish to confirm with you today the target reopening date for the Waverley Stadium and its competitions. WBA have decided NOT to open the venue next week once the state reaches its targeted 80% double dosed vaccination, and instead will recommence junior competition on Saturday 6th November, and senior competition will resume on Sunday 7th November.
Throughout this week the updated fixtures will be published on the website, with the intention to have the first two 'Practice Rounds' ready by this weekend. As per previous correspondence, the first two rounds plus the previously played games will not count towards this new 21/22 season results and ladders. WBA understand the higher-than-normal risk of injury to anybody that has not been exercising and practicing during the lockdowns, and therefore we encourage all team managers to emphasis with their teammates to focus on participating and seeing friends, practicing and getting back into sport, without the high stakes competitive nature that can possibly increase the risk to yourselves, and each other.
Finally, please remember all players must be registered via PlayHQ with your unique team link. If you have new players, or have lost this link, please email seniors@waverleybasketball.com
We will make sure team representatives are updated via email to clarify any updated policies and announcements from Basketball Victoria and the City of Monash, as well as confirming the upcoming program where we welcome you back to WBA from the weekend after this one approaching!