How to Join
JOINING A SENIOR DOMESTIC COMPETITION
To enter a new team into WBA's Senior Domestic Competition, please read carefully all rules and regulations and enter via the online link with PlayHQ.
Waverley's senior competitions are running at capacity, and we cannot enter more teams then the current scheduling. Each season our existing teams have prioity to re-enter the competition, and new places will be available on a 'first in best dressed' scenario once we confirm the amount of spaces.
You will be contacted if you did not make the fixture, or if there are any issues with your application.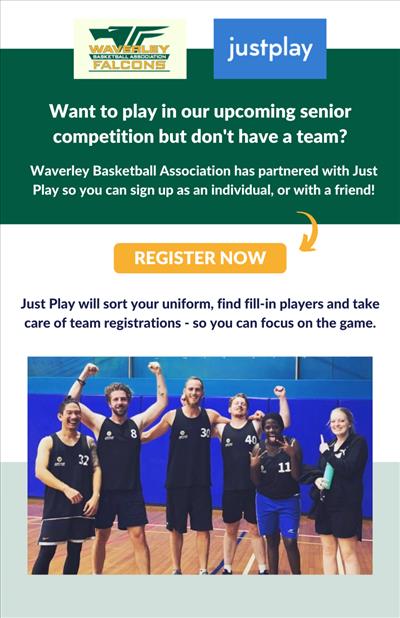 LOOKING FOR A GAME? OR TEAMS LOOKING FOR PLAYERS?
The previous system of leaving your details with the office or noticeboards, and hopefully teams seeking players will find you, is now available online. It has a high strike rate and is very easy to register your details, Waverley currently has three options available:
JUST PLAY
Want to join our comp, but don't have a team? Waverley Basketball has partnered with Just Play!
Just Play's mission is to make super easy for individuals to play Basketball. If you are an individual looking to play, head to Just Play register as an individual or with a friend and they'll allocate you to a team. Find out more HERE
Got any other questions about just play- click HERE
MY EMERGENCY
Teams looking for players or players looking for a team can now use 'MyEmergency' on the website.
Please click on 'MyEmergency' under the quick links section, or click 'senior domestic' then fixtures, and on the right hand side of the page where you select your competition, is [interested in playing or filling in for other teams? Click here!] which will take you to 'MyEmergency' Follow the steps and hopefully you'll have a game really soon!
SENIOR BASKETBALL CLUBS
Players who wish to join an established team or be part of a senior club, please contact the following clubs or browse their websites for further information
SONICS BASKETBALL CLUB
Contact: Graham Scott
MALVERN TIGERS BASKETBALL CLUB
Website:
TIMBERWOLVES BASKETBALL CLUB
website:
email: wolves@timberwolves.org.au