Junior Falcons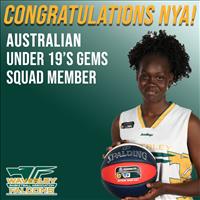 Congratulations Nya Lok - Under 19s Aus Squad
25/02/2021
HUGE CONGRATULATIONS NYA LOK!
Nya has made the Australian Under 19 Gem's Squad - a beyond amazing achievement!
Nya will join the squad in Canberra for a 4 day intensive camp at the end of this month.
She has starred for Waverley in past seasons as a Forward/Centre and earned a place in the Victorian High Performance system. She was selected in the State Development Program and qucikly earnt her place in the Vic Metro Under 18s Womens team in 2020.
We are over the moon for Nya and cannot wait to see how she progresses. WBA wish her the very best of luck for the upcoming camp and beyond.
For more information and to see the full squad announcements visit the link below;
https://australia.basketball/blog/2021/02/09/australian-u19-squads-named-for-2021-fiba-world-cup-camp/